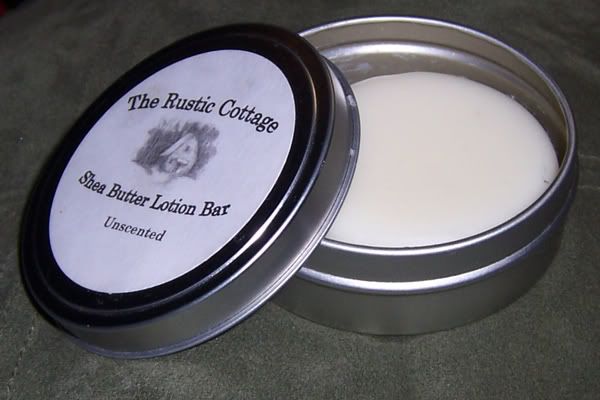 Well, I may have missed the boat on these great lotion bars from
The Rustic Cottage
but I'm hoping she brings them back. Also, I apologize for not posting yesterday- It was my fiance's day off from work, and we had to *gasp* clean! Evil! I'm also working really hard on trying to find a job so we can move out of our in-laws house so posting may be slow off and on. Don't worry though, I'm still working hard to find you awesome stuff.
Back to the lotion bars. I was participating in a "Secret Pal" gift exchange, and my secret pal sent me this great thing- a lotion bar. A lotion bar is basically a mix of beeswax, shea butter, and essential oils- it makes a great soaplike bar that you rub between your hands. It melts a little and then absorbs into your skin. It can be a little bit greasy but its really the best invention ever- totally gets rid of all messiness (though I'm a fan of whipped shea butter too, I like the mess-free appeal every once in a while).
Right now,
The Rustic Cottage
seems to be out of stock, but the ones I got from here are great- I prefer the unscented, but there are a few nice scents that might appeal to you. Lavender isn't bad.
Edit
:
Lotion Bars
are now BACK IN STOCK! Yay!! So grab some now- you know you need one.