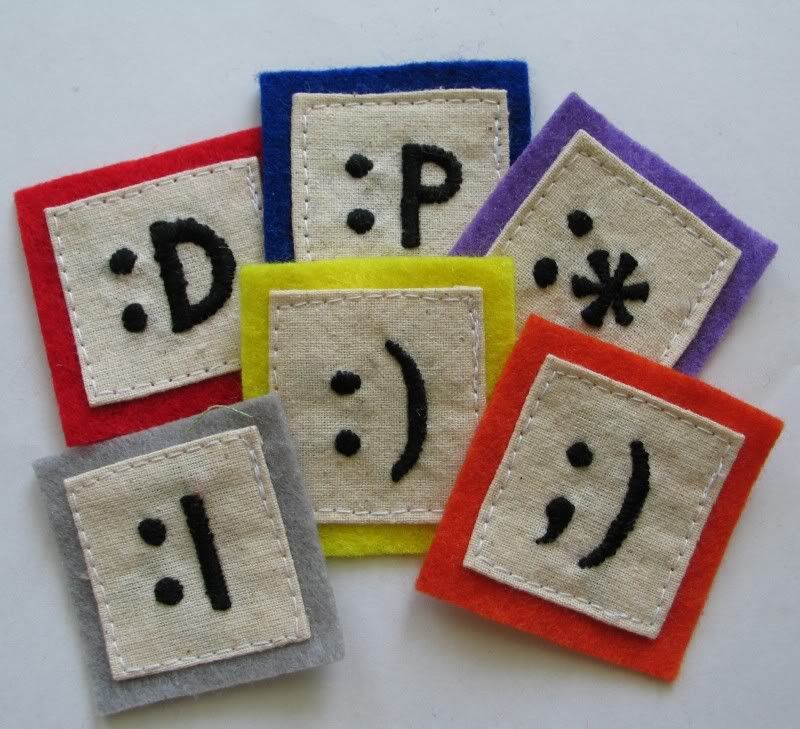 These
Emoticon Mini Patches
from
Pillowhead Designs
are simply adorable. In the interest of full disclosure, Angela (who resides in Ottawa, Ontario, Canada) is one of the first friends I made on etsy, and the first thing I bought from her, a geek patch, was purely because of this fact. However, she does all her embroidery by hand and I've been really impressed, so who could pass up these great little patches? I love them so much that I decided to have a little fun with them......
Angela doesn't just make patches though- as you might be able to tell from her name, her primary embroidered passion is... PILLOWS! Or, well, pillow covers. Angela offers an optional pillow with any pillow order for only $9, and she also makes
initial coffee sachets
and
embroidered journal covers
. There are some great pillow covers too- from a mini
Etsy promo pillow
to a
cloud-clad "Soar" pillow
, her inventory is great. The best part is that Angela also does custom orders, so if you don't see anything you like, you can contact her to get something you DO. Her pillows range from girly to geeky, and there's something for everyone.
What amazes me about the products, though, is the workmanship. Look at the embroidery- the first time I saw it, I simply assumed it was done with a machine. But Angela is full of surprises- she does all her embroidery by HAND. You really can't beat this! So, if you're the least bit enchanted by anything Angela makes, buy it. I can guarantee you'll love it, and her shipping is ALWAYS prompt, and it usually doesn't take any longer to get from Canada to the US than something from the US would (though of course she hasn't got control over that). I think I'd still shop from her even if her customer service was crap, but it isn't, so you should consider it. At the very least, buy a couple mini patches. They'd look great on your bag.