This great coloring book from
Totemic
was even nicer than I could have imagined.
John Wik
, the creator of the coloring book, known as
Totemic
on etsy, is truly amazing. I am flabbergasted by his lovely
pendants
and
caged dice earrings
, and his art is just awesome. Something you need to know about me- I adore coloring. I adore coloring books- but I want something grown up! I don't want to go buy one of those silly winnie the pooh coloring books at the dollar store! I want something that's fun to color and that doesn't make me feel like a 5 year old. Up till now, I've been relying on coloring books from
Dover Publishing
to fill my deep desire for coloring books. When I saw
Technographic
, I couldn't resist. Of course, the price tag was a bit daunting for poor old me, so I put it on my favorites and waited until I had the money- then i snatched it up.
It arrived, and I attacked it with my father-in-law's colored pencils: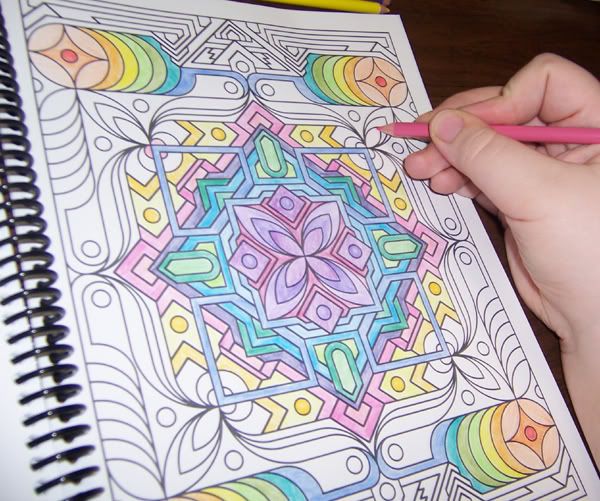 I'm loving it. This coloring book is simply amazing- the designs are all abstract, but very carefully made, and they are printed on super high-quality cardstock, then spiral bound for a wonderful coloring experience. The service I got from John was phenomenal, and he sent me 4 artist trading cards with his "cloud" series on them. Sure, he has high-ticket items in his shop- but I can guarantee that everything in there is worth it. I certainly know that my coloring experience has been worth MORE than the money I paid for the coloring book, and if you like to color as much as I do, you'll feel the same way.
PS: The coloring book was a limited edition, and he's only got a few copies left, so better snatch them up before they are gone.