Anyone who knows me at all knew that this feature was coming. Gudonya is officially my FAVORITE bath and body supplier on etsy (though I have a few other people I do shop from). The wisconsin homegrown company has been making bath and body products that feel "Good on Ya" for six years now, and from my very first purchase I was hooked.
The first thing I bought was the above pictured "floap" (soap that floats) in the peppermint flavor. Let me explain something about myself- I love peppermint. I love the smell, but most of all, I love the
tingle
. I love burts bees for that reason- I want it to tingle when I put it on. And to be truthful, I've had trouble finding soap that really tingles. But I read the following on the lising for
peppermint floap
:
We stumbled upon (that's right, we may not be exceptionally skilled but we're LUCKY!) the creator of the very BEST mint essential oils. And she was right here in Wisconsin all along. If you love peppermint soap as much as we do, this one will curl….your….toes. From the first sniff all the way to the last skin-waking tingle!
Who can resist that? Well, not me. So I tried it. One word: TINGLY. I loved it so much that I decided to splurge a bit and order some MORE gudonya stuff... And now it's all over my bathroom.
Truly,
Gudonya
has everything you could possibly want. I have bought 2 other scents of floap, and it truly is great soap. I take showers, so the fact that it floats is lost on me, but it's light so it fits well in your hand, and it lathers up much better than any other handmade soap I have ever tried. But floap isn't the only thing
Gudonya
carries. I've got their
So Delicious solid perfume
and
Opulence hand & nail scrub
pictured above, and they also carry my new personal favorite in lip balms, the
Lip Smoothie
. Now, I have bought several of their lip smoothies and one thing I will say to anyone who is the least bit picky about the scent of their lip balm that it would be very smart to buy the unscented lip balm, but I find that the vanilla mint is wonderful- it's got the peppermint tingle with just a touch of vanilla to tone it down. It's wonderful.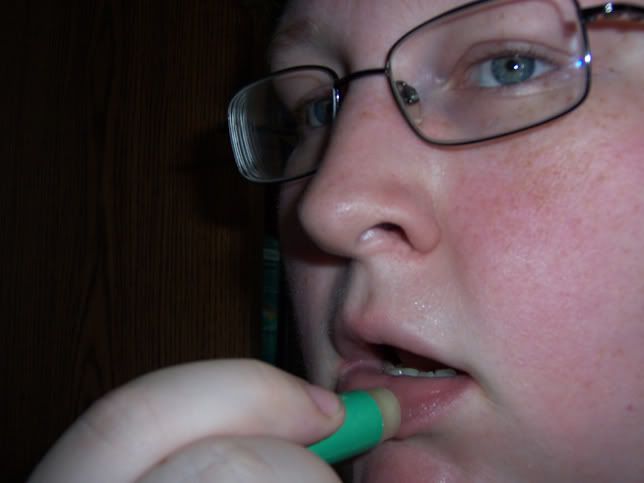 I have also discovered a true love for Shea Butter through
Etsy
, and Gudonya carries some amazing
Whipped Shea Butter
. The stuff is absolutely amazing, and while it is greasy going on, it soaks in very quickly and is incredibly healing. Though I am blessed with wonderful skin (don't mind bragging there!) I'll admit that I do have problem areas- my hands and feet. This stuff made them sooo much better! Among their other products are
Whipped Clean
,
No-Slick Bath Bombs
,
Skintastic Roll on Perfume
,
Nail 9-1-1 Cuticle Stick
, and a variety of specialty soaps for shaving as well as problem skin. Gudonya stocks just about everything you could ever need, and I defintely highly recommend their products. Besides, what could be more fun than
Cow-Ma-Flage
floap?????
While we're on soap? As much as I love peppermint, I also like exfoliation... I like exfoliation a lot. Heavy exfoliation on my legs and feet.. and I found the perfect solution..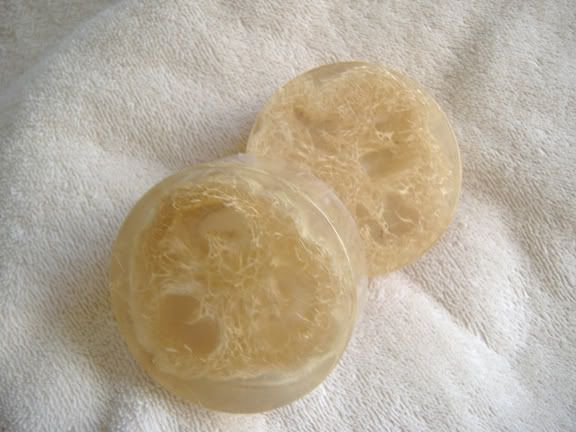 This is the
Ice Ice Baby Peppermint Loofah Soap
from
Unique Dsigns
. Try it out- I know you'll like it.